ROMOLD DN625 Maintenance Chamber Product Specifications
The DN625 Maintenance Chamber from ROMOLD is a modular system designed to be easy to install, and to specify!
Key details to determine for specification of the chamber are:
Pipe diameter at outlet
Pipe entry angle(s)
Depth to invert of pipe
With this information a simple process can be followed to specify the product.

Load Distribution Ring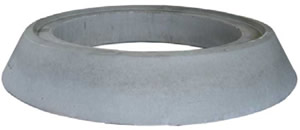 Load Distribution Ring Part #
CONCRETE RING AML 01
The Load Distribution Ring is used to mount the Cover and must always be used for Class D applications.
DN625 Element Seal

DN625 Element Seal Part #
ES 63
Between each chamber element is a common Element Seal. The "Triple Safety Seal" is 100% effective at preventing ingress into the chamber, and egress from the chamber. One Element Seal is required for a Maintenance Chamber with one Riser Ring, and one additional Element Seal is required for each subsequent Riser Ring in the assembly.
DN625 Riser Rings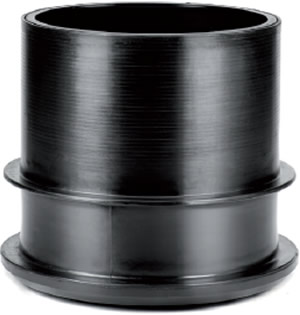 DN625 Riser Rings Part #
E 63/90.8
| Height of Riser Ring | Part # |
| --- | --- |
| 400mm | E 63/40.8 |
| 600mm | E 63/60.8 |
| 900mm | E 63/90.8 |
There are 3 Riser Ring elements which ensure that the exact height of the chamber is achieved. Each Riser Ring is height adjustable over a length of 300mm. Riser Rings can be stacked to provide an assembly with a maximum depth to invert of 3m. Drop pipes can be installed through the wall of the Riser Ring up to a size of DN150 max.
Type and number of Riser Rings will depend on the depth of the manhole.
Example Riser Ring part # E 63/90.8
Where the height of Riser Ring is detailed in the table.
DN625 Maintenance Chamber Base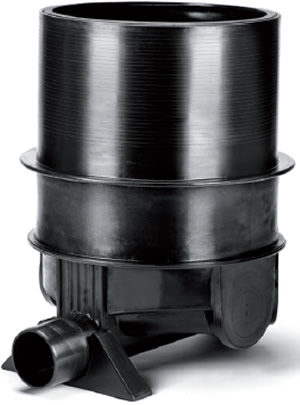 There are a range of Base options to provide flexibility to the project. Each Base element has moulded-in benching, providing optimum hydraulic efficiency, whilst saving time during the installation process. The base has an outlet spigot sized for plain wall rubber ring socket jointed PVC pipes according to AS/NZS 1254 and AS/NZS 1260. Each base is supplied with an Inlet Seal to provide a straight channel base option. Additional Inlet Seals can be assembled to holes drilled in the multi-pipe base ports as required.
The part numbers for the Base element options are provided in the table below:
| Base Code | # Inlets | Pipe Size | Height |
| --- | --- | --- | --- |
| 5 B 63.15/90 BID | 5 | DN150 | 900mm |
| 5 B 63.15/120 BID | 5 | DN150 | 1200mm |
| 3 BL 63.20.15/75 BID | 3 | DN150 / DN175 | 750mm |
| 3 BL 63.30.25/85 BID | 3 | DN225 / DN300 | 850mm |
Romold DN625 Selection Guide PDF